High Ham Knitting for Charity Group
High Ham Knitting Group
We meet at Tutnell House, Henley (very bottom of Stout Hill) on the 3rd Thursday of the month 2-4. If you would like to join us, an experienced knitter or not, you will be made very welcome. If you you have wool, needles, buttons, ribbons etc, you nolonger want - contact Margaret Cox 01458 250861 or 07766576356
November '23
The Ladies have been busy knitting scarves and mittens, hats, bags, blankets, teddies - the blankets destined for Musgrove Hospital Baby Unit, the rest to Ukraine.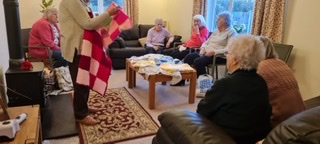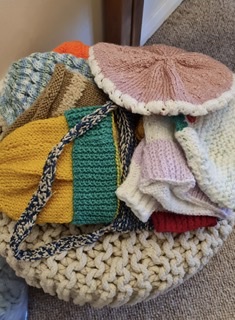 May '22
After a 2 month pause, 6 knitters gathered to show the items they had knitted since March - some had been very busy knitting: blanket squares, teddies, socks and gloves, beanie hats, Twiddle Muffs, hats for premature babies etc. Margaret suggested the Twiddle Muffs could be given to local care homes now, and the remaining items kept by Margaret till there is news of appeals from charities later in the year. The next gathering is on 16th June, 2pm.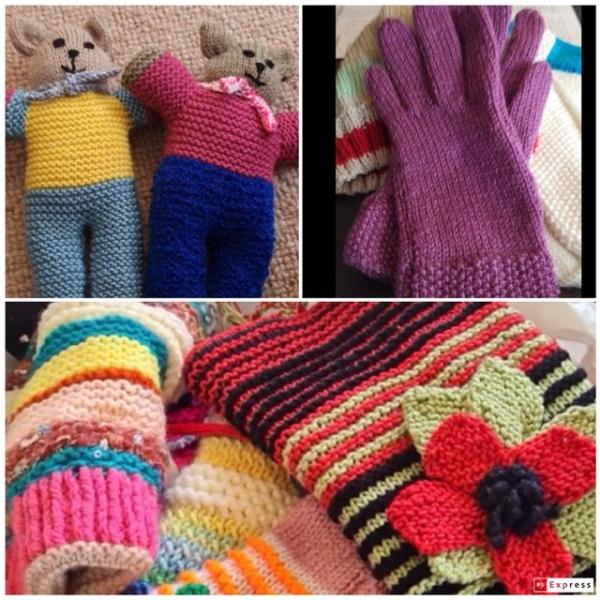 March 2022
High Ham Knitting Group gathered again after a long pause on the 17th March. The results of months of 'staying at home' and knitting to keep busy were  revealed: bags, finger puppets, twiddle muffs, baby clothes, bobble hats, scarves, and blankets. The plan is to give the Twiddle Muffs to a number of Care Homes in South Somerset, and to continue knitting the items that might be wanted by charities working within Ukraine and refugees. Helen Hanney who moved to High Ham last October, joined Gwen, Margaret, Kay, Jackie and Amanda.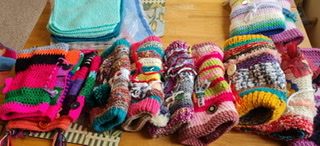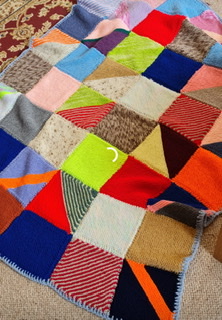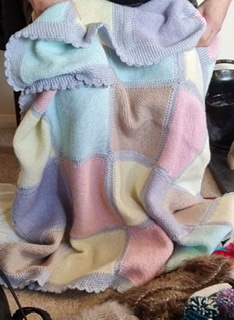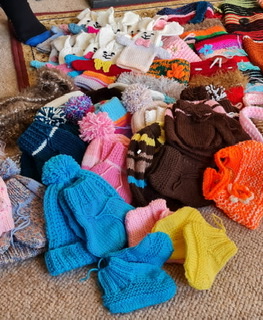 October 2021 - update from Margaret Cox
Although the knitting group has not met during lock down I have recently had an amazing amount of items brought to me to be  included  in the "show box appeal " and overseas relief. (The Charity who oversee the operation is Blythswood and can be looked up on the internet for more details.This year it is not possible for the lorry to go to Romania as in previous years (cost of lorry and paperwork regulations). Items will now go to the Ukraine and other  needy countries where they will  equally be accepted and appreciated. You are welcome to come along on Thursday 21st October 2-4.  It would be good to see the items that have been knitted before they are collected in November. All items we knit are extremely simple - you don't have to be a great knitter and it doesn't  matter whether you knit a  little or lots its more of a social afternoon with a good worthy cause to receive what we may produce.
Donations of unwanted wool is useful, and items that can go in shoe boxes i.e pens, pencils, ribbon etc... is also very acceptable.
If you want to knit but dont  want to commit to coming to our afternoons yet, I can let you have some patterns or an idea of what we do.
It would be helpful to have an idea of numbers if you intend to come
Thank you
Margaret
04.03.20  Our knitted 'Innocent bottle hats' were handed over to a member of Class 5 HH School, who are supporting the Age Concern fundraising 
campaign.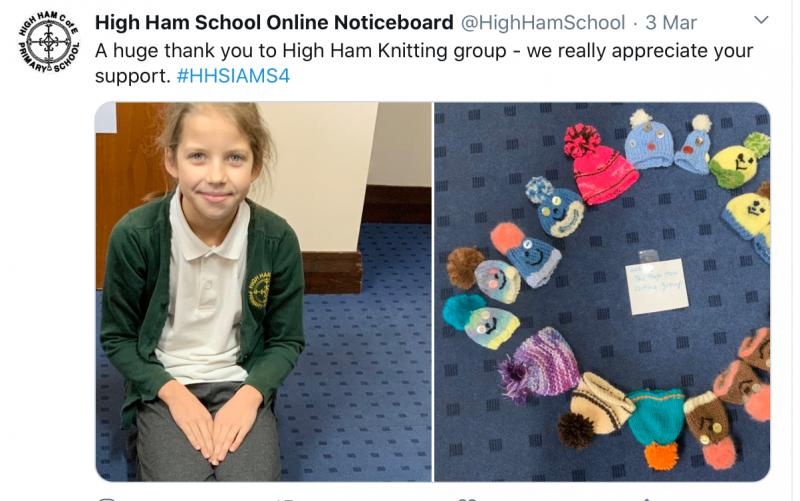 20.02.20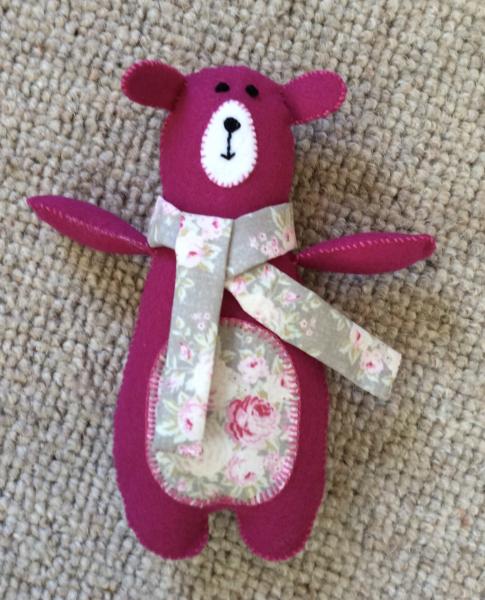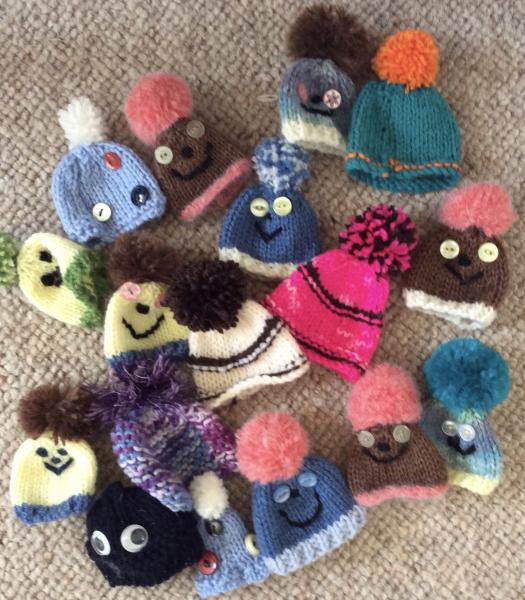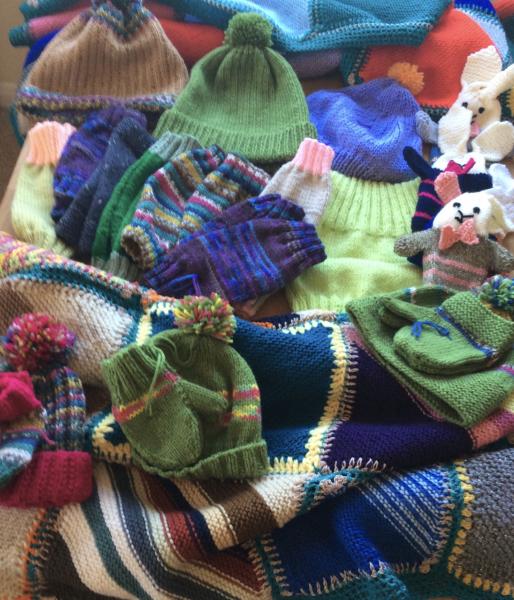 More Wrist warmers and hats, a soft toy, and hats for Class 5's  'Innocent Smoothies' Age Concern fundraiser.
17.10.19
Ginny Smith joined the knitters to show photos of the last trip to Vulcan in Romania to deliver a lorry-load of shoe boxes filled with items donated by individuals and groups in the SW. The HH knitters contributed a large number of hats, scarves, gloves, purses... these items are distributed to.
Ginny took away with her: 84 scarves, 125 hats, 75 bags, 20 hats and matching gloves, 4 hats and scarves, 60 baby hats, 10 baby booties, 15 filled pencil cases, , 28 vest tops, 8 blankets, 40 glove puppets, 15 hair bands, 8 soap bags, 8 tote bags, 80 card picture books - all for the next lorry trip to Vulcan in Romania.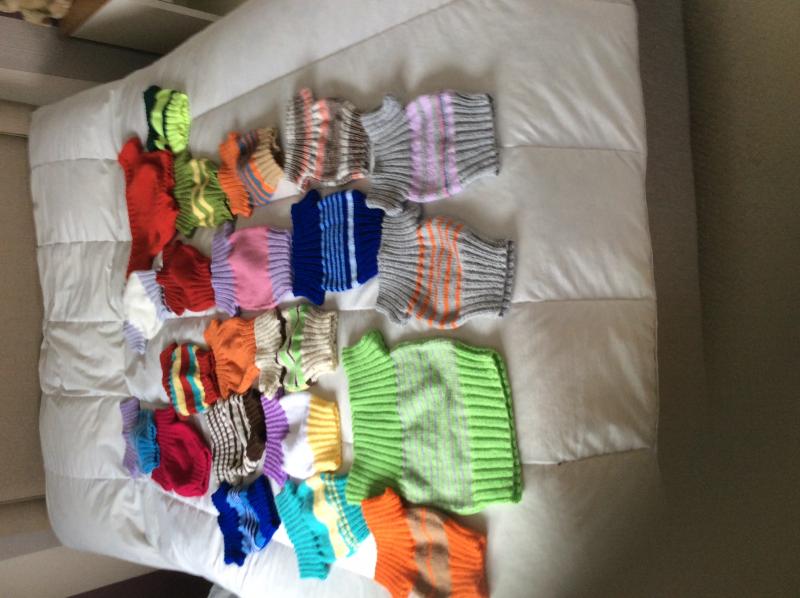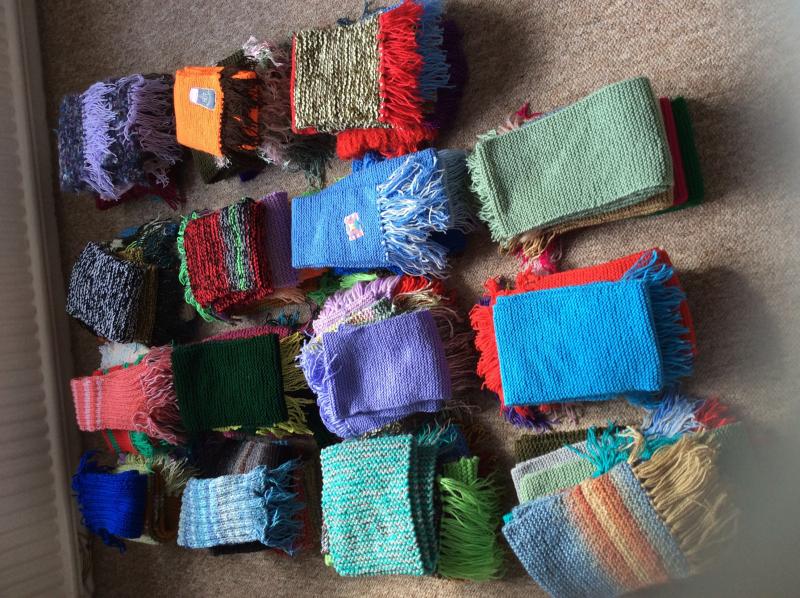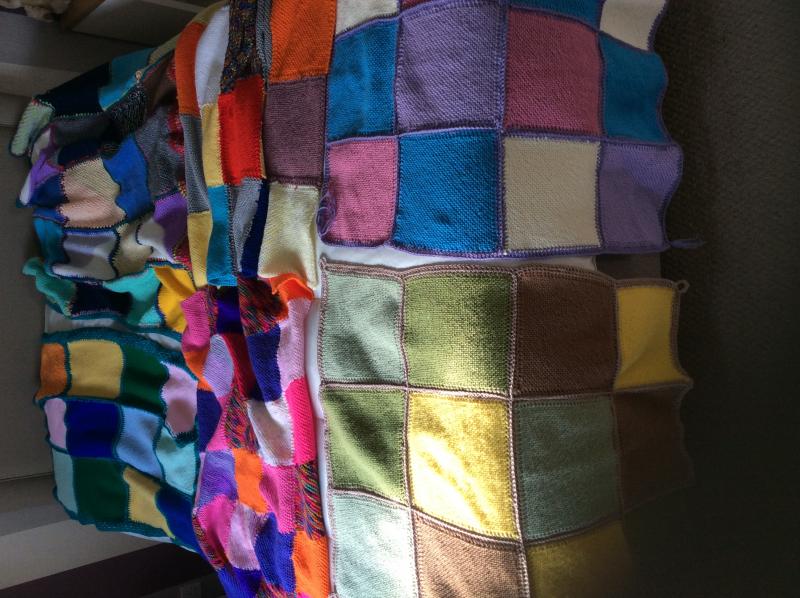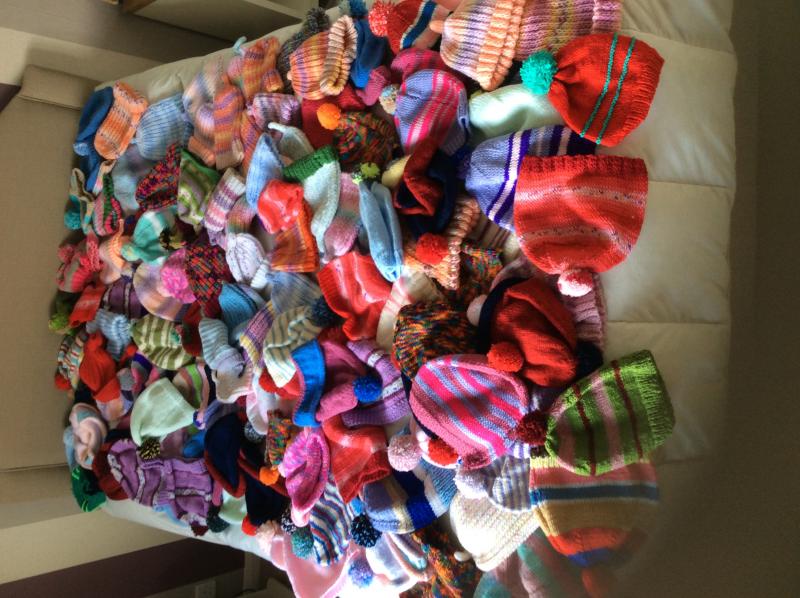 21st March '19
Margaret, Kay, Dulcie, Jenny, Mary, Alison and Amanda spent an enjoyable the afternoon knitting baby jumpers, scarves, hats, fitting in plenty of chatter.
Scarf knitted by Margaret, gloves and hat by Alison.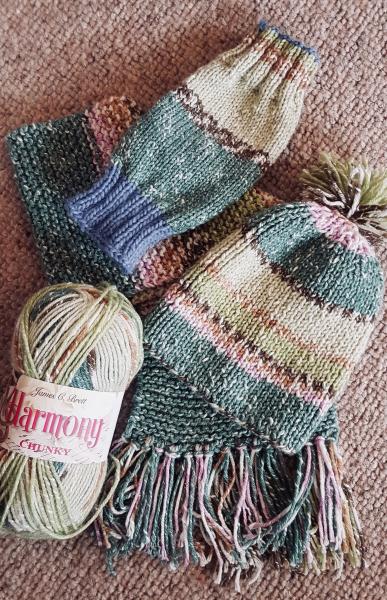 Feb '19
Margaret Cox updated knitters on how she has so far used the donations from Ginny Smith and 2 others .- a  large box of new wool costing £20. Ladies were busy knitting bags, scarves, teddies, bootees and baby jumpers - see photos below - knitted by Dulcie Stevens.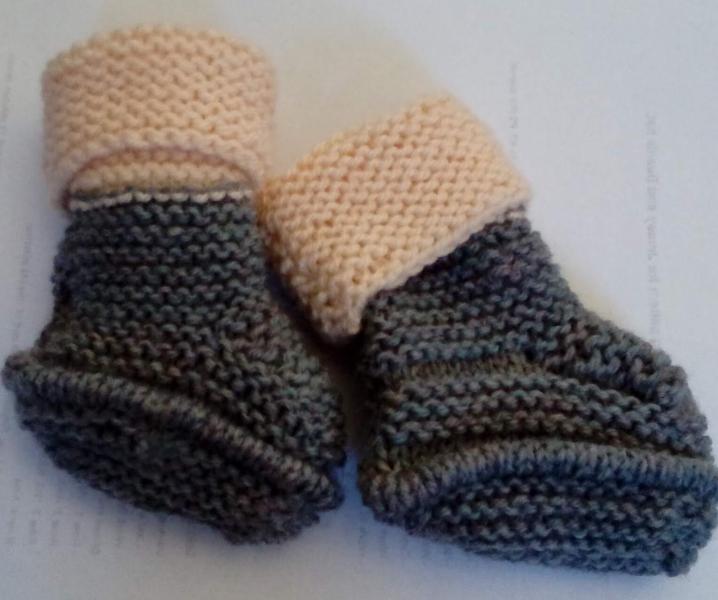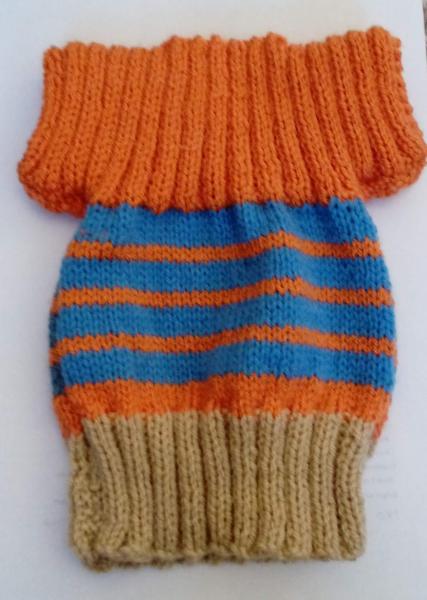 October '18
At our October meeting we were pleased to forward our year's knitting contribution to Ginny Smith  on the first stage of its journey to Romania.
Over the year we knitted (and received from other knitters) the following items ; -
51 pencil cases  (all filled with pencils, crayons, rubber, sharpener and a book
3 satchels – filled
83 handbags – filled with a purse, notebook, pencil and ribbons
26 teddy bears
52 small baby hats
65 larger hats ( including 14 hat and glove sets)
5 soap bags with soaps
7 hair bands
6 owls
9 blankets
80 picture books
We also forwarded around  300 premature baby hats to the Royal United Hospital at Bath
Donations of unwanted wool, buttons, ribbons, pencils and stationery would be very useful. All our knitting is very simple and patterns are available.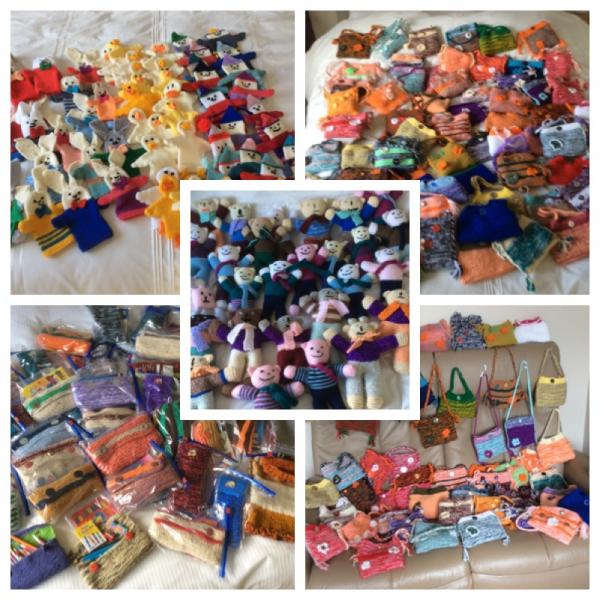 To date we have made -
Around 300 premature baby hats donated  to the  Bath RUH (appeal now closed)                    
Several blankets using eight inch squares
70 girls hand bags with purses and goodies
50 pencil cases (filled with pencils, crayons a sharpener and colouring book) 
2 satchels
25 Bennie hats 
10 Hat and gloves sets  
20 clown hand  puppets
21 rabbit hand puppets
We are pleased to say our above items will all be delivered personally by Mrs Ginny Smith (from Curry Rivel) to needy children at a village school in Romania. Ginny and three friends will be visiting  in early December. They will be there for the arrival of the shoe box appeal lorry.
(At the High Ham Ladies Group meeting on 6th February 2019 Ginny will be coming to tell us all about the organisation that runs the shoe box appeal and  about her recent visit. It will be great to see photos of our items being received by the children) 
We are still knitting and would welcome any knitters to join us or just knit. All items are very basic knitting and  we have several patterns available
We would be pleased to receive any unwanted wool, buttons, pencils for filling pencil cases or items to put in the handbags.
Margaret Cox
January '18 was our 3rd session of knitting hats for premature babies at Royal United Bath Hospital. 185 knitted as of 18th January, 60 of them by Jackie Tottle). We spend a very enjoyable afternoon knitting, chatting, a cup of tea and biscuits to keep us going.