High Ham Playing Field: Long Street, High Ham TA10 9DN
Owned by High Ham Parish Council
Managed by High Ham Playing Field Management Committee. To contact us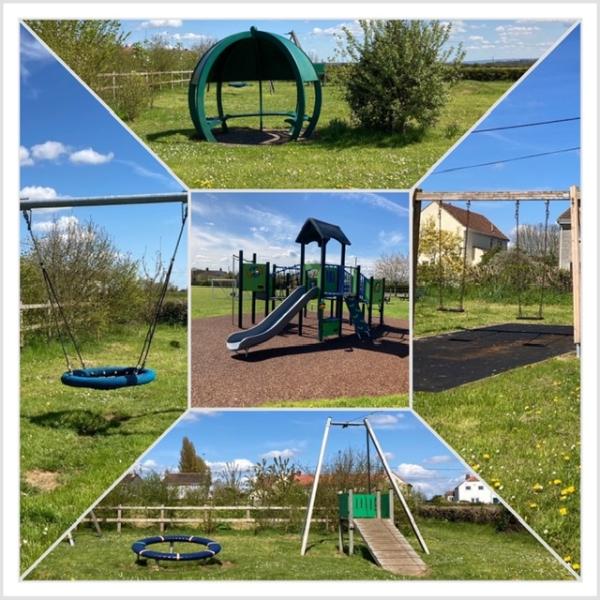 High Ham Playing Field
In High Ham we are fortunate to have a large and well-equipped playing field offering facilities that may be enjoyed by the local and wider community.
During the 1990s the need was identified for a public open space for football and other leisure activities. Previously, village football had been played on adjacent farmland. The land known as 'Fido's field' was bought by the parish council in 1999.
A sub-committee was formed with responsibilities for the management of this new facility. Funding was made possible by a generous grant at a low rate of interest from a central government small-works pot. Planning permission was obtained to form a gravel parking area bordered with a low fence.  The ground was cultivated, levelled, and stone picked by volunteers and seeded to form the football pitch we enjoy today. During the early 2000s grant aid was received from the local authority and, combined with parish funds, a climbing frame, swings, and a fenced BMX track were installed.
Areas were planted with native trees and shrubs, particularly around the BMX track, with help from the Somerset Landscape scheme. Community plantings of wild daffodils were also established.  It has always been a priority to develop the wildlife potential of the site. There is a wildflower meadow area to enjoy beyond the BMX track - look out for the Early Purple and Pyramid orchids in the early summer months.
More play equipment was added in 2011 with lottery and other private funding for a teen play area with a highly popular zip wire. This has proved well used and 7-aside football nets were added in 2016 to allow smaller groups to play in the field.
A regular Christmas match was inaugurated between neighbouring Pitney and High Ham with the proceeds given to the Clic Sargent charity.
The Queen's Diamond Jubilee was celebrated by the planting by High Ham School pupils of a standard oak given by the Tree Council, and a bonfire party was held in the field below the playing field.
Throughout the Covid 19 pandemic the playing fields remained open and were a boon to those who needed to get out and exercise in a fabulous open-air environment with stunning views.
Late summer 2022 a new climbing frame replaced the original with generous funding from the Parish Council, South Somerset Community Fund, Somerset Fund, and a contribution from the High Ham Twinning Association. This has been well received and used by our younger visitors.
Current projects include fund raising for a pavilion with changing rooms shower facilities, toilets and a small meeting room. The committee has obtained planning consent and building control consent for a block and timber clad pavilion. Strands of grant funding are more limited following the pandemic, but we remain optimistic that this important facet of the playing field plan can be delivered.
The playing field is a testimony to the work of a loyal group who give up their time to have regular meetings, fund raisers and work parties to install swings, carry out safety checks litter pick and more besides. We are fortunate to have the help of our competent Parish Lengthsman for further practical help.
If you are interested in joining the management team, please do let us know. The committee is always open to new members with fresh energy and new ideas.
We are grateful for the help of all volunteers, donors and paid staff who have helped make this special playing field facility available to all. I am certain that the founders Walter Brown and Dennis Davis [whose brainchild this was in the 90's] are smiling down on us.
Paul Brunsdon [ Chair]
April 2023